Geraldine Connolly
Biography of Geraldine Connolly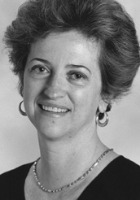 Geraldine Connolly is the author of three poetry collections: The Red Room (Heatherstone Press), Food for the Winter (Purdue University Press) and Province of Fire (Iris Press). Her poems and reviews have appeared in Poetry, Chelsea, Shenandoah, The Georgia Review and The Gettysburg Review. She has been awarded a Maryland Arts Council fellowship as well as two poetry fellowships from the National Endowment for the Arts. She was the Margaret Bridgman fellow at the Breadloaf Writers Conference. Billy Collins selected one of her poems, "The Summer I Was Sixteen," for the Library of Congress Poetry 180 Website: A Poem a Day for American High School Students. She won first place in the 2002 W.B. Yeats Society of New York poetry contest. Her work has appeared in eight anthologies including Boomer Girls: Poems by Women from the Baby Boom Generation (U. of Iowa) and Sweeping Beauty: Poems about Housework (U. of Iowa) and has been recorded and broadcast on WPFW Radio's The Poet and the Poem and The Writer's Almanac. She teaches at the University of Arizona Poetry Center and divides her time between Tucson and a home in the Rocky Mountain West.

Geraldine Connolly's Works:

The Red Room (Heatherstone Press)
Food for the Winter (Purdue University Press)
Province of Fire (Iris Press).
This page is based on the copyrighted Wikipedia Geraldine Connolly; it is used under the Creative Commons Attribution-ShareAlike 3.0 Unported License. You may redistribute it, verbatim or modified, providing that you comply with the terms of the CC-BY-SA.
In Praise of Dawn
You can keep afternoon and its dwindling mysteries,
twilight with its seedy hauteur. You can have night
with its phony neon and rented motel rooms.
I prefer morning when the air is so quiet the rub
of a cricket's leg sounds like wildness beckoning.

My feet pad along the carpet like bears' paws
along a stretch of furred moss. The cherry tree
catches the first glint of gold in its deep green.