Gieve Patel
Biography of Gieve Patel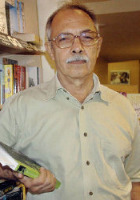 Gieve Patel is a poet, playwright and artist, as well as a practicing doctor.

Early Life and Education

Gieve Patel was born in 1940 in Mumbai. He was educated at St Xavier's High School and Grant Medical College. He lives in Mumbai where he is a general practitioner.

Career

His poetry works include Poems than first launched by Nissim Ezekiel followed by How Do You Withstand, Body and Mirrored Mirroring. His plays include Princes, Savaksa and Mr Behram .

He held his first show in Mumbai in 1966 that went on to have several major exhibitions in India and abroad. Patel participated in the Menton Biemale, France in 1976. India, Myth and Reality, Oxford in 1982; Contemporary Indian Art, Royal Academy, London 1982.Patel belongs to that avant-garde grouping of artists based in Bombay and Baroda.

He has also exhibited for Contemporary Indian Art, Grey Art Gallery, New York, 1985, Indian Art from the Herwitz collection Worcester Art Museum, Massachusetts, 1985 and 'Coups de Coeur' Geneva, 1987.

He has been conductng a poetry workshop in Rishi Valley School for over a decade. He also edited a collection of poetry which was published in 2006.

The Poet of the Body

Gieve Patel is considered to be the poet of the body since human body is a recurrent theme in a majority of his poems. In his poems, the body acts as a living metaphor. His sympathies are with the oppressed or down-trodden and anyone devoid of his basic right to live. In an appropriately titled poem, The Ambiguous Fate of Gieve Patel, he being neither a part of Hinduism nor Islam in India, he grieves the isolation faced by the Parsis in the starting line of the short poem based on communal riots, when he writes; "To be no part of this hate is deprivation". As a Parsi observer, he cannot choose to be a part of either side, he poignantly remarks, "Planets focus their fires/into a worm of destruction/Edging along the continent. Bodies/Turn ashen and shrivel. I only burn my tail." He is thus counted among the well-known Parsi writers in India.

Gieve Patel's Works:

Mirrored, Mirroring. (Poetry in English). Oxford University Press , 1991.
How Do You Withstand, Body. (Poetry in English). Clearing House, 1976 .
Poems. (Poetry in English). Brought out by Nissim Ezekiel , 1966.
University. (Poetry in English)
This page is based on the copyrighted Wikipedia Gieve Patel; it is used under the Creative Commons Attribution-ShareAlike 3.0 Unported License. You may redistribute it, verbatim or modified, providing that you comply with the terms of the CC-BY-SA.
Public Hospital
How soon I've acquired it all!
It would seem an age of hesitant gestures
Awaited only this sententious month.
Autocratic poise comes natural now:
Voice sharp, glance impatient,
A busy man's look of harried preoccupation -
Not embarrassed to appear so.
My fingers deft to manoeuvre bodies,
Pull down clothing, strip the soul.