Biography of Gulsher john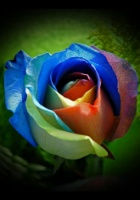 I, a weird and worse specie,
(May be a cynic) is blessed with misfortune and obscurity,
Sans Serenity.
Soul is imprisoned and lips are sealed,
however trying to verse my anguish, solitude and melancholy in a naive strain.
Love Greek's Hellenism and English Romanticism.
This page is based on the copyrighted Wikipedia Gulsher john; it is used under the Creative Commons Attribution-ShareAlike 3.0 Unported License. You may redistribute it, verbatim or modified, providing that you comply with the terms of the CC-BY-SA.
New Poems
Lost in love
Did you hear a rhythm divine?
Often tune in a forsaken shrine.
Like that bashful virgin
Dressed in a pure white linen.

Come close and listen to her rhymes
With broken heart she looks sublime,
Wane and wailing in plaintive tone
And restrain herself but in vain.