Biography of Henry Charles Beeching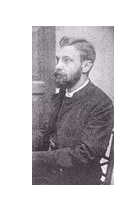 Henry Charles Beeching (15 May 1859 – 1919) was an English clergyman, author and poet. He was educated at the City of London School and at Balliol College, Oxford. He took holy orders in 1882, and began work in a Liverpool parish. He later became Dean of Norwich. He gave the Clark Lecture in 1900 on The history of lyrical poetry in England. He wrote a book on Francis Atterbury.
This page is based on the copyrighted Wikipedia Henry Charles Beeching; it is used under the Creative Commons Attribution-ShareAlike 3.0 Unported License. You may redistribute it, verbatim or modified, providing that you comply with the terms of the CC-BY-SA.
Fatherhood
A kiss, a word of thanks, away
They're gone, and you forsaken learn
The blessedness of giving; they
(So Nature bids) forget, nor turn
To where you sit, and watch, and yearn.

And you (so Nature bids) would go
Through fire and water for their sake;
Rise early, late take rest, to sow