Biography of Ibnu Din Assingkiri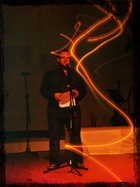 'I am just a storyteller who told story through poetry'

My Worlds

In my small world
Urgency is not priority
Troublesome, why hurry?
Have some coffee and poetry
Let the caffeine tell a story

In my big world,
Racing against time
Deadlines always on the line
All data must be define
Facts and fiqure, should be fine

In my small world,
Differences are made equal
Through words and poetic ritual
War and hatred in a mode of denial
Let the writings embrace us all

In my big world,
Opportunities are blunder
Equality is joke of the year
Monkeys are policy maker
Talks and walks are mere orator

I would rather,
Trapped in my small world, forever
But my bank account will soon clear
Oh my dear, oh my dear,
I am in between of hate and fear

Ibnu Din Assingkiri

My Connections:
http: //catatanseni.blogspot.com/
http: //www.facebook.com/IDAssingkiri/
http: //twitter.com/IDAssingkiri/

©All poems of Ibnu Din Assingkiri are the property of Ibnu Din Assingkiri.

Ibnu Din Assingkiri's Works:

1. Hingga Ke Negeri Abadi, eSastera, Kuala Lumpur,2012. http: //esastera.lot.my/index.php? route=product/product&product_id=57556

2. Senyawa Kata Kita, Wahana Jaya Abadi, Bandung,2012.

3. Jejak Sajak (Sehimpun Puisi Generasi Terkini) , Bengkel Puisi Swadaya Mandiri, Jambi,2012.

4. Ana - Antologi Puisi eSastera Mengenang Brirasa, eSastera, Kuala Lumpur,2012.

5. E-LOKA (Antologi Penyair eSastera) , eSastera, Kuala Lumpur,2012.

6. Lentera Sastra, Sembilan Mutiara Publishing, Trenggalek,2013.
Exam Blues - Haiku
Shiny days no more

cloudy storm finally here

final semester