isatou juwara
isatou juwara
(27 / Sukuta town)
Biography of isatou juwara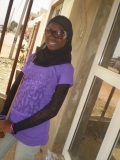 I'm just a simple girl from west africa who loves to read and write.I enjoy poetry and prose.I don't mind being friends with anyone cuz I just love making friends regardless of who you are or where you from.Am an open type and I like people who speak their mind.thats me! ! !
Proud Of Africa
I am proud and proud indeed
i shall not propound cause am strongly bound,
to say it loud and let it sound
even as i drown and am down.

The African cultures are most powerful
and has always been so colourful,
allow not they destroy our cultures
those vultures with no culture.