Jason Palmer

(5 April 1971 / Huddersfield)
Biography of Jason Palmer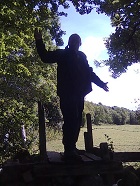 I have been published in The Times, The Guardian and by several academic publications.

You can find me if you google 'thames path walking group'.


I have a cd coming out soon, of my poems.

Jason Palmer's Works:

I am self publishing with a cd and dvd as do not like traditional roads to publishing and I build websites at www.i-build-websites.co.uk and prefer to deliver things across the web to my global poetry fan base.

If you go with a traditional publisher they do not like you sending your poems to newspapers to be published.
JMW Turner
Turner did see
The glory of dawn
Ripples of water
Steam in motion

No Genius he says
Damned hard work he says
Tramp across England
Sketch, watercolour, look