Jason Palmer

(5 April 1971 / Huddersfield)
Biography of Jason Palmer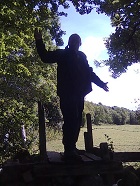 I have been published in The Times, The Guardian, The Ruskin Society and by several academic publications.

Often, I learn about things, that interest me, and end up writing a poem about them, which I enjoy and I like it when others who know about the same subject enjoy my poem.

Reading and writing poetry is a great joy.

Jason Palmer's Works:

No book as yet as too busy with other things to do the required events that go along with a book launch. Poetry is a hobby for me, will self publish I expect, one day, is nice to have poems in different forms.
This page is based on the copyrighted Wikipedia Jason Palmer; it is used under the Creative Commons Attribution-ShareAlike 3.0 Unported License. You may redistribute it, verbatim or modified, providing that you comply with the terms of the CC-BY-SA.
JMW Turner
Turner did see
The glory of dawn
Ripples of water
Steam in motion

No Genius he says
Damned hard work he says
Tramp across England
Sketch, watercolour, look