Jason Palmer

(5 April 1971 / Huddersfield)
Biography of Jason Palmer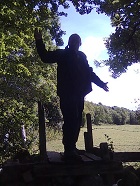 I have been published in The Times, The Guardian, The Ruskin Society and by several academic publications.

Often, I learn about things, that interest me, and end up writing a poem about them, which I enjoy and I like it when others who know about the same subject enjoy my poem.

Reading and writing poetry is a great joy.

Jason Palmer's Works:

No book as yet as too busy with other things to do the required events that go along with a book launch. Poetry is a hobby for me, will self publish I expect, one day, is nice to have poems in different forms.
Tippity Tap
Tap Tap, Click Click

On the train

Leeds To London

Click Click go the mice

Strange Tunes from phones