Jay Aguiniga
Jay Aguiniga
(Scottsbluff Nebraska)
Biography of Jay Aguiniga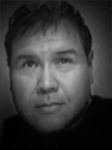 I live in the North Eastern Utah Mountains called the Uintah Basin. I'm blessed to live here, a place where you can drive 15 minutes one way and smell the scent of pine trees and drive 15 minutes the other way and smell the scent of the desert cactus.
Most people get the misperception that if you live in Utah you have at least four wives, not true i have five. That always makes me chuckle.
Nothing special about me, I'm just an ordinary person who finds his way to release by putting thoughts to paper. If you took the time to read this short biography about me, I sincerely thank you for taking time out of your life that is extremely important to someone.
Well not much more to say....

'In the end we're all just chalk lines on the concrete, drawn only to be washed away. For the time, I have been given. I am, what I am.
What Would I Do For You?
I would walk a thousand miles...
for one of your beautiful smiles.
Climb the highest mountain I could find...
just to say I love you... time after time.
run I would... across a bed of hot coals...
to reach you and all our goals.
I would stand in a eternal flame...
if our love would forever be the same.
Carry you through Glaciers of snow...