Jeff Gangwer
Jeff Gangwer
(September 23,1984 / Hood River, Oregon)
Biography of Jeff Gangwer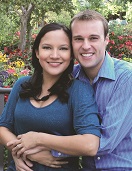 Jeff Gangwer grew up in Parkdale, Keizer, Woodburn, and Salem, Oregon. He majored in English Education and minored in American Government Education. In 2011, he began teaching English Language Arts. He enjoys movies, music, audiobooks, and stand-up comedy. He also enjoys hiking, paintball, road running, shotgun shooting, and tennis. He lives in Utah with his lovely wife, Rebeca.
...On Cascade Dairy
I learned to work on Cascade Dairy—
on the ol' Carter Homestead
in Parkdale, Oregon—

On a farm that sat eleven miles
as the crow flies from
the base of Mount Hood—

The tallest mountain in the whole state—

The best place for a poet to begin an odyssey....