Jessie Hopkins

(9/23/94 / Missouri, United States)
Biography of Jessie Hopkins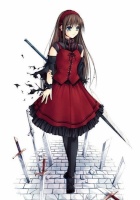 I like to write. It's as easy as that. Sometimes they're about me, sometimes they're just in my mind. Sometimes they're dark, sometimes they're full of warmth, and other times they're just qurky. Much like me. :)

Jessie Hopkins's Works:

None... yet. Unless you count the homemade ones I gave to my grandparents and aunt and uncle.
Serial Killer
I see you there,
Without a care.
Does she know,
About that night in the snow?

My fear of you,
She'll know too.
Just how fast,
Will you take to reveal your past?