Jessie Mackay
Biography of Jessie Mackay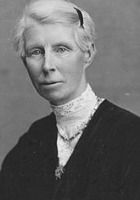 Jessie Mackay was a New Zealand poet.

Her parents were Scottish. She went to Christchurch to train as a teacher, and taught at small rural schools until 1898. She moved to Dunedin, and worked as a journalist for the Otago Witness. In 1902, she moved to Christchurch where she lived with her sister Georgina. In 1906, she was lady editor of the Canterbury Times.

Her papers are held by the Alexander Turnbull Library, National Library of New Zealand, Wellington, New Zealand. The Jessie Mackay Memorial Award for Verse is given by the PEN New Zealand.

Jessie Mackay's Works:

The Spirit of the Rangatira and other ballads.. Melbourne: George Robertson. 1889.
The Sitter on the Rail and other poems. Christchurch: Simpson and Williams, 1891.
From the Maori Sea. Christchurch: Whitcombe and Tombs, 1908.
Land of the Morning. Christchurch: Whitcombe and Tombs, 1909.
The Bride of the Rivers and other verses. Christchurch: Simpson and Williams, 1926.
Vigil. Auckland: Whitcombe and Tombs, 1935
This page is based on the copyrighted Wikipedia Jessie Mackay; it is used under the Creative Commons Attribution-ShareAlike 3.0 Unported License. You may redistribute it, verbatim or modified, providing that you comply with the terms of the CC-BY-SA.
The Grey Company
O the grey, grey company
Of the pallid dawn!
O the ghostly faces,
Ashen-like and drawn!
The Lord's lone sentinels
Dotted down the years,
The little grey company
Before the pioneers.