Biography of Jesus James Llorico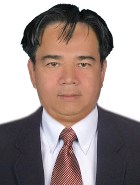 Mr. Jesus Diaz Llorico hails from the beautiful province of Iloilo, Philippines. He was a former member of the Police Force in his hometown for a couple years and later on joined the Bureau of Fire Protection wherein he was assigned in several parts of the Visayas. He then decided to go abroad and work for 22 years in the Kingdom of Saudi Arabia and is now connected with the Prince Sultan Airbase in Al kharj. He is a regular contributor of the PANAY NEWS, a daily newspaper in the Visayas and the KABAYAN WEEKLY, one of the leading weekly newspaper in the United Arab Emirates. Working abroad, away from his native land and loved ones, it is in writing poetry that Jesus finds comfort in times of solitude in a foreign land.
This page is based on the copyrighted Wikipedia Jesus James Llorico; it is used under the Creative Commons Attribution-ShareAlike 3.0 Unported License. You may redistribute it, verbatim or modified, providing that you comply with the terms of the CC-BY-SA.
New Poems
People who read Jesus James Llorico also read
The Desert Winds
'The drifting clouds and desert winds
Unlocks the inner chords of my mind
As my eyes gazed the desolate dunes
This desert edge one cold afternoon

A dream that I pondered for so long
And a wish that faded like a song
The hope that she will come and enjoy
This hushed beauty of forgotten joy