Biography of Jesus James Llorico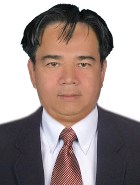 Mr. Jesus Diaz Llorico hails from the beautiful province of Iloilo, Philippines. He was born in Manila to Vicente Albana Llorico Sr. from Iloilo City and Amparo Dacutan Diaz from Dumalag Capiz.
Jesus is the second child to a brood of eight. Though his family had stayed long in the Visayas, He was born and bred in Manila. He studied at the Pateros Catholic School during his elementary days and his secondary education at the Don Bosco Technical Institute and Namei Polytechnic Institute respectively. He continued his college degree at The University of the East.
When his family decided to go back home to Iloilo in the early 80's, Jesus pursued his career in joining the Police Force for a couple years and later on joined the Bureau of Fire Protection wherein he was assigned in several provinces in the Visayas.
It was during this time that he decided to go abroad and continued to work for 22 years in the KIngdom of Saudi Arabia. Presently, he is connected at the Safety Wing at the Prince Sultan Airbase in Al kharj.
Married to Annalie, they have two kids, Margaret and Joseph. It is in moments that he longs for his beloved family and his native land, that Jesus pours out his heart into writing poems.
Reading his works, one will feel the emotions and yearning for the memories he left behind and only through his poetry that he finds comfort in times of solitude in a foreign land.
New Poems
People who read Jesus James Llorico also read
A Few Seconds
It was a scene, I remember well
As we wait in school, for the bell
You sat with friends in the hallway
Talking and giggling all the way

It started well with a simple stare
A smile so sweet and full of care
And it was a look that says it all
For it melt my heart and my soul