JOBY JOHN
Biography of JOBY JOHN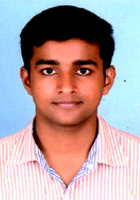 Joby John, (also known as Thomas John, pen name was Joby John) is a minor Indian English poet from Kerala, India. His popularity in online is based chiefly on his poem, academic studies and short stories He is noted for the fiery poems and explicit philosophical quests.

His open and honest treatment of philosophy infuses his writing with power, but also marked him as an iconoclast in his generation.

Early Life

Joby John was born at Ramapuram, Kottayam District in Kerala, on July 01,1989, to John Augustine Keelathu and Marykkutty John.

He spent his childhood at Ramapuram. He excelled in writing. His love of poetry began at an early age through the influence of his mother.He completed his secondary education from St.Augustines HSS, Ramapuram. At the age of 16, he joined in Good Shepherd Minor Seminary. His life there enabled him to learn English, Latin and Syriac and he started writing and publishing both in English, in Malayalam and Syriac. He proved his talents in Public speaking, Painting, Sports, Clay modeling and so on. Later by 2009 he left the seminary and joined in St.Thomas College, Palai. He completed his graduation in English in 2012 and he joined for Post Graduation at the same year.Now he is one of the leading online poets.
New Poems
To my love
How happy I am to be in the dawn
My days are being doubled
Because her presence
bring joy to everyone
where darkness fear to be
Whether rich or poor no matter
How content my heart
And cheerful face is the gift to
Her charm delights me