Biography of John Garth Raubenheimer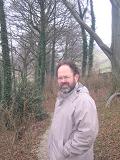 Queen Vic, Johannesburg, breech birth. First of five children, I grew up under apartheid on a poultry farm run by my mother. My father was an inventor. He was BIG John, I was little John. He was a formidable man. My father and mother Lydia started off their life together as teachers, she of English, he of Maths and Science. Now, alone but among friends, in a small town in North Yorkshire, in my 66th year, I remember the love that flourished in our long, narrow house in Batten Road, Bedfordview, Johannesburg. Bursting with people, relatives and friends, foster sisters and brothers, cousins, all came together in noisy celebration, warmed by my mother's indomitable, loving heart. She had time for everybody. It's one of the blessings of my life that all the grown-ups I knew as a child were trustworthy, and they all took their cue from my mother. My father and his brothers George - an ex-Spitfire pilot - and Alan, brought tech and dangerous toys to us. We had adoring Jewish aunts and uncles. All people were people before they were anything else, to my mother. I believe she would have accepted me as I am today, a Christian - loving the people round me now as much as she did all of us then.

But all was not well and this was apartheid South Africa. We lived privileged as well as blessed lives. Three successive women were our black 'mothers'; Sana, Rosie, whose son Sonny was one of my first friends, Maria Chauke; they looked after us, carrying us on their backs when we were infants. A farm worker, Alfred, polished our shoes, another, Daniel, rode one of my brothers and me to school on the farm bike. Johannes - who of 'the boys'... he was a man in his thirties: we children were forbidden to use the term 'boy' or 'girl' for an adult, but our school friends and many of the grown-ups did; life was riddled with contradictions - perhaps I loved most, was 'mother for chickens'. Robert, the farm driver, was an educated man. These people shared their lives with us, treating us with kindness. I regret that, except for Maria, I don't know their surnames. Our farm was in a fertile valley... Our neighbour, a Portuguese market gardener, ploughed his fields with oxen. Drums beat all weekend, accompanied by singing. I saw police raids, young khaki- or dark blue? - uniformed policemen chasing and beating Africans with their batons. Or waving revolvers. I saw one drag a woman along by her hair - the first time I'd seen long hair on a black person. Events like these made me early aware of the gross inequality and injustice in our society. As did the presence in our house of friends, 'listed' by the government as communists, and a few who had been in prison. There were many brushes with the police and with officialdom about 'passes' - which all Africans in white areas had to carry. As a boy I quickly became politically awake,

The journey from this flawed, invincible childhood, its many memories... through school, growing up, life under a race-obsessed white minority government, what seems inevitable madness, incarceration in mental hospitals and then with other outpatient friends on Hillbrow, Johannesburg streets, a 'maletjie'... to my life today, a Christian in England, has only one fragile record, the poems gathered here.

God bless you, poetry lover! John R.

John Garth Raubenheimer's Works:

THE VOYAGE FROM ME TO YOU: A Life In Poetry, is me reading my poems on behalf of SANE @CharitySANE, which supports people having mental or emotional difficulties. See my fundraising page on http: //www.justgiving.com/John-Raubenheimer

THE VOYAGE FROM ME TO YOU A Life In Poetry ISBN 978-0-9927986-0-4 John Err Publications UK Paperback £5 settlejohn60@gmail.com
This page is based on the copyrighted Wikipedia John Garth Raubenheimer; it is used under the Creative Commons Attribution-ShareAlike 3.0 Unported License. You may redistribute it, verbatim or modified, providing that you comply with the terms of the CC-BY-SA.
New Poems
Cleaning For Mrs L.
I'd see you crouching down by your front door:
your pastel colours through the frosted glass.
All ready to spring on me with a roar
- old women do roar - the instant I'd pass
that one bright red rose on the garden wall.
'Just going by my door, I saw you turn, '
you'd cry, beckoning me into the hall,
the door flung open, on your cheeks the burn
of guilt and pleasure: company at last.