John Ruskin
Biography of John Ruskin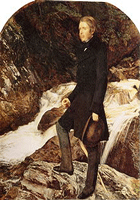 John Ruskin (8 February 1819 – 20 January 1900) was an English art critic and social thinker, also remembered as a poet and artist. His essays on art and architecture were extremely influential in the Victorian and Edwardian eras.

Ruskin first came to widespread attention for his support for the work of J. M. W. Turner and his defence of naturalism in art. He subsequently put his weight behind the Pre-Raphaelite movement. His later writings turned increasingly to complex and personal explorations of the interconnection of cultural, social and moral issues, and were influential on the development of Christian socialism.
This page is based on the copyrighted Wikipedia John Ruskin; it is used under the Creative Commons Attribution-ShareAlike 3.0 Unported License. You may redistribute it, verbatim or modified, providing that you comply with the terms of the CC-BY-SA.
Night
Faint from the bell the ghastly echoes fall,
That grates within the grey cathedral tower;
Let me not enter through the portal tall,
Lest the strange spirit of the moonless hour
Should give a life to those pale people, who
Lie in their fretted niches, two and two,
Each with his head on pillowy stone reposed,
And his hands lifted, and his eyelids closed.