JOSE MURGUIA

(4/14/80 / aztlan CITY OF ANGELZ! (EL MONTE))
Biography of JOSE MURGUIA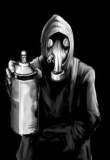 I LOVE 2 WRITE POETRY A PIECE OF ART A WAY TO EXPRESS YOUR FEELINGS AND EMOTIONS A PLACE TO LET LOOSE THE INNER BEAUTY OF POETRY IS THAT U CAN WRITE ABOUT ANITHING AND IT CAN STILL BE CONSIDERED ART! ..

JOSE MURGUIA's Works:

none at the time....but hope to have a book out very soon tittled (the art of poetry vol.1) stay in touch and ill keep you informed thank you all for the support.
This page is based on the copyrighted Wikipedia JOSE MURGUIA; it is used under the Creative Commons Attribution-ShareAlike 3.0 Unported License. You may redistribute it, verbatim or modified, providing that you comply with the terms of the CC-BY-SA.
ROACHES.
i spray them, i step on them but there still here,
how can this be
how must i kill these roaches i fear,
roaches never dye,
when you kill one they just multiply,
so next time you see one pass you bye,
look at your shoe but dont even try,
because roaches never dye.

Copyright ©2009 Jose Murguia