joseph harlacher 111
joseph harlacher 111
[na] (09/27/1951 / Seattle)
Biography of joseph harlacher 111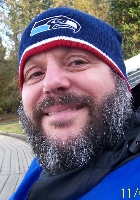 I have lived in America all my life mostly in Washington State I have been involved in snow skiing, music, anthropological biology, the mathematics of location and communication, water skiing, camping, mostly a watcher not an experimenter, yet too open a mind for possibilities instead of the probable. causing me to miss many an opportunity even though I am still thankful for them having been there. I've been married and divorced before any writing was done. I like to watch movies several years after they've changed mediums film, vhs, dvd, download. all goes by slowly yet can be said all too quickly for truth to be fact.

joseph harlacher 111's Works:

none yet except my own copies home burned ten in all.
The Scale Of A Full Tin
by window sill
yet closed
I smoke my pipe
and must stand outside
this guardian of advanced age
with no wisdom of sage
I say to her all my love
to send away
the men I love