Biography of kafil uddin raihan.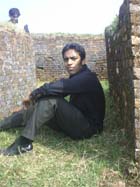 I am now a student of a private medical college. I start my writting since my childhood, when I was in class 2. I like songs, all kinds of songs. I also write song, dramas, stories. actually literature is in my blood.These are all about me for now.

kafil uddin raihan.'s Works:

Nothing as I dislike to expose my works.cause if anyone insulte my work, i fear.As a father I can't let this to my children.
Someone
Sometimes I loss myself,
somewhere I don't know,
somethings happen to me,
some changes I can't feel.
But I know, When I sleep,
then my dreams show me,
What a fake I am!
what a looser I am!