Biography of Katie Huntress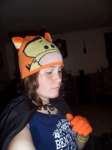 well i am 17, i am living in a group home, i have been dealing with some tough shit over the past 10 months but guess what i got through it. it wasn't easy. but i got the help i needed and now i am in a great place, learning how to be independent and just learning to be myself.
This page is based on the copyrighted Wikipedia Katie Huntress; it is used under the Creative Commons Attribution-ShareAlike 3.0 Unported License. You may redistribute it, verbatim or modified, providing that you comply with the terms of the CC-BY-SA.
Rose
I wish I could see you,
I wish I could know you,
In my heart there is a place for you,
I don't know you, but I love you,
With all my heart I do,
You are my sister,
If you were here, I would be here for you,
I just wanted to let you know,
I will always love you.

dedicated to my 4 year old sis rose