Biography of Katie Huntress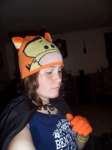 well i am 17, i am living in a group home, i have been dealing with some tough shit over the past 10 months but guess what i got through it. it wasn't easy. but i got the help i needed and now i am in a great place, learning how to be independent and just learning to be myself.
what am i doing here?
what am i doing here?
why do people care?
its not like i am worth anything,
i can't do anything except write,
and most of them are depressing,
they just make people sad,
what am i doing here,
it seems people just want me here to make me unhappy,
their is nothing i need here,