Biography of Kelsey Joe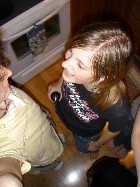 I'm a teenager striving to find a purpose. I have some amazing friends, but I have been hurt by quite a few people I called my friends. When I'm not at home hiding away from all the yelling and pain, I'm at school probably getting bullied and hiding that away as well. I believe poems are a good way expressing things, but not all of my poems are related to me. Some are for my friends or about my friends.

I believe in experience, and how it'll break you or make you. I let fate run its course but hope for a better outcome. I've learned some pretty good life lessons, and I stick to them.

Life comes fast, but you have to know that somewhere... there is hope.
And there is Love.
This page is based on the copyrighted Wikipedia Kelsey Joe; it is used under the Creative Commons Attribution-ShareAlike 3.0 Unported License. You may redistribute it, verbatim or modified, providing that you comply with the terms of the CC-BY-SA.
Human Being
In the palm of His hand
Lies a little kid asleep,
He protects the little kid
And He watchs his keep.
He watchs the little kid
Grow up super fast,
And now that little kid
Is a teenager at last.
He helps the teen through