Kenneth Slessor
Biography of Kenneth Slessor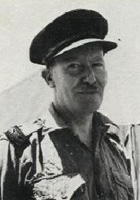 Kenneth Slessor was born in Orange, New South Wales. He published his first poetry in the Bulletin magazine while still at school. He worked on the Sydney Sun newspaper from 1920 to 1925, and for a while on the Melbourne Punch and Melbourne Herald. He returned to Sydney in 1927 to work on Smith's Weekly, where he stayed until 1939.

In 1939, at the outbreak of the Second World War, Slessor was appointed as an official war correspondent, and spent time with Australian troops in England, Greece, the Middle-East and New Guinea.

At the end of the war he returned to the Sydney Sun as a leader-writer and literary editor until 1957. He then worked for the Daily Telegraph and Sunday Telegraph. During this period (from 1956 - 1961) he was also editor of the literary magazine Southerly.

Kenneth Slessor died in 1971.

Kenneth Slessor's Works:

Poetry Collections

Thief of the Moon 1924

Earth-Visitors 1926

Trio with Harley Matthews and Colin Simpson, 1931

Cuckooz Contrey 1932

Darlinghurst Night and Morning Glories 1932

Five Bells 1939

One Hundred Poems 1944

Backless Betty from Bondi edited by Julian Croft, 1983

The Collected Poems of Kenneth Slessor edited by Dennis Haskell and Geoffrey Dutton, 1994

Prose Collections

Bread and Wine 1970

War Diaries edited by Clement Semmler, 1985

War Dispatches edited by Clement Semmler, 1987

Other Collections

Poetry, Essays, War Despatches, War Diaries, Journalism, Autobiographical Material and Letters of Kenneth Slessor edited by Dennis Haskell, 1991

Edited

Australian Poetry 1945

The Penguin Book of Australian Verse 1958

Biography

Kenneth Slessor, a Biography by Geoffrey Dutton, 1991
This page is based on the copyrighted Wikipedia Kenneth Slessor; it is used under the Creative Commons Attribution-ShareAlike 3.0 Unported License. You may redistribute it, verbatim or modified, providing that you comply with the terms of the CC-BY-SA.
Thief of the Moon
Thief of the moon, thou robber of old delight,
Thy charms have stolen the star-gold, quenched the moon-
Cold, cold are the birds that, bubbling out of night,
Cried once to my ears their unremembered tune-
Dark are those orchards, their leaves no longer shine,
No orange's gold is globed like moonrise there-
O thief of the earth's old loveliness, once mine,
Why dost thou waste all beauty to make thee fair?