Kesav Venkat Easwaran
Kesav Venkat Easwaran
(June 5th / Palghat- Kerala- India)
Biography of Kesav Venkat Easwaran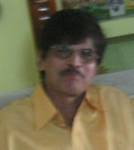 An Engineer by qualification and by profession, now a poet, thinker and philosopher, Kesav Venkat Easwaran writes poetry mostly online for his own enjoyment and satisfaction. He invites you to share the romantic imagery, his insight and philosophy in his poems
*My Sickle Moon
My sickle moon! How nice I find you sail
This ocean sky! You dive and hide with ease
Into the frothing cloudy waves, unveil
To rise up bathing high! You look a piece
Of cheese; to where you fly? You please explain.
This night is mute and hence you don't deny.
You touch my heart; I wish you know my pain!
You say you have no time? I wish you bye!