Biography of Khaleel Steir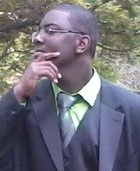 I write poetry because I find it helps me get my thoughts out in a way people can understand. Poetry has become a way for me to vent feelings and thoughts on paper. Though throughout my time of writing poetry it has helped me become a better person by not bottling my emotions and letting my inner poet out.
This page is based on the copyrighted Wikipedia Khaleel Steir; it is used under the Creative Commons Attribution-ShareAlike 3.0 Unported License. You may redistribute it, verbatim or modified, providing that you comply with the terms of the CC-BY-SA.
The Unsung Hero
My hard work goes unnoticed for years. I'm a nobody.
I feel like Robin, Batman's sidekick.
A pat on the back, at most. Why even try then?
So when will it be my turn? !
Wait. Could it be? Now that everyone is gone, I'm the ONE you need? !
Hold on now. When I'd have to jump through rings of fire to make us look good.
Why should I help you now? Why shouldn't I just turn my back?
Just like you and everyone else did when I accomplished something.
Yeah, it hurts doesn't it. Standing in t