Khembottra Oum
Biography of Khembottra Oum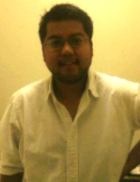 Khembottra Oum is an American/Cambodian poet from Long Beach, CA. His poems mainly focus on religion, love, and the human condition. Besides being influenced by poets of the past, he cites that battle rapping and hip hop artists have contributed to his unique style. He continues to test the limits of poetry and wants to bring it back as an important medium of popular culture.
Divinity
A pain that grows
grows like no other...
Not like a flower that blossoms
from the ground.
More like a burning cigarette
in the night.

Heroes know well
what real love is.