Khembottra Oum
Biography of Khembottra Oum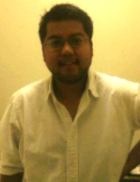 Khembottra Oum is an American/Cambodian poet from Long Beach, CA. His poems mainly focus on religion, love, and the human condition. Besides being influenced by poets of the past, he cites that battle rapping and hip hop artists have contributed to his unique style. He continues to test the limits of poetry and wants to bring it back as an important medium of popular culture.
No More Masks
Can you bring a bottle?
You know, the elixir of truth.
When men drink, they cry too.

Can you write a letter?
You know, the unrequited one.
When men love, they come undone.

Can you take off your mask?
You know, the face of persona.
When men live, they become mourners.