Laurence Overmire
Laurence Overmire
(USA)
Biography of Laurence Overmire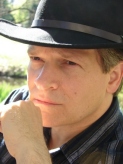 LAURENCE OVERMIRE, known to many for his work as Poet-In-Residence on The Jeff Farias Show, has had a multi-faceted career as poet, author, actor, director, educator and genealogist. His award-winning poetry, eclectic in form, style, and subject matter, and often provocative in its direct confrontation of social issues, has been widely published in the U.S. and abroad in hundreds of magazines, journals, and anthologies.

Overmire's most recent book The One Idea That Saves The World: A Call to Conscience and A Call to Action (2012) has been receiving widespread popular acclaim for its inspiring message of hope despite the dire issues that now threaten humankind. Written in prose with a few poems interspersed, this book is speaking to people from all walks of life from all over the world by appealing to the common humanity that we all share.


Overmire graduated summa cum laude as Valedictorian of Muskingum University, Ohio, with a B.A. in theatre and a B.S. in psychology, and was awarded a Bush Fellowship to attend the University of Minnesota, where he earned his M.F.A.

Overmire won a second Bush Fellowship to become a professional actor with the world-renowned Guthrie Theater in Minneapolis where he worked with such prominent directors as Alan Schneider, Richard Foreman, Garland Wright and Liviu Ciulei. He then went on to a successful career on stage, film and television in New York, Hollywood and points-in-between including the Broadway production of Amadeus directed by Sir Peter Hall, the network television soap operas All My Children, As the World Turns, One Life to Live, and Loving, Joseph Papp's New York Shakespeare Festival, Charles Busch's zany Off-Broadway hits Vampire Lesbians of Sodom and Psycho Beach Party, Equity Library Theatre, Roy Brocksmith's California Cottage Theater, Alaska Repertory Theatre, Buffalo's Studio Arena Theatre, Delaware Theatre Company, Totem Pole Playhouse, and Yale Repertory Theatre. He also served as Executive Producer of the Writer's Lab, a non-profit organization in Hollywood to promote quality writing in the entertainment industry, and has been involved in teaching in the arts for over 25 years, designing programs for Lincoln Center Institute of New York City, Manhattan Theatre Club, Meadow Brook Theatre, and Oregon Children's Theatre among others.

Mr. Overmire began writing poetry as a way to document and reflect upon his experience, compiling what he refers to as a "diary in art." Overmire's background in the arts, rather than in academia, gives him a decidedly different perspective on the writing of poetry, one that emphasizes a right-brain as opposed to a left-brain approach and advocates complete freedom within the art form, simplicity of language, and focus on the importance of what is being expressed. Like an actor taking on different roles, his poems take on many voices and run the gamut from beat to lyric to classical in style and tone. His work is at once accessible, yet multi-layered and quite complex upon further examination. As a result, he has gained quite a following among those who appreciate his down-to-earth musings on what he sees going on in our world today.

A respected genealogist, Mr. Overmire is himself a descendant of Gov. William Bradford, William Brewster, and seven other Mayflower passengers, three Native American ancestral lines, England's King Edward III and Scotland's Robert the Bruce. He is a distant cousin of poets Henry Wadsworth Longfellow, Emily Dickinson, Robert Frost, e. e. cummings and T. S. Eliot, as well as playwrights Thornton Wilder and Tennessee Williams. Mr. Overmire is quick to point out, however, that such relationships are not at all unusual. The truth is that ALL of us are descended from famous historical figures and ALL of us can count numerous famous people among our relatives. In fact, much of his poetry is focused on this central theme, that we are all related, all part of the same human family, and intimately dependent on one another for our collective well-being. He is the author of One Immigrant's Legacy: The Overmyer Family in America 1751-2009, a monumental work of family history that traces and tells the stories of the descendants of Revolutionary War Veteran Capt. John George Overmire. He has also published several impressive genealogical studies online, most notably "The Ancestry of Overmire, Tifft, Richardson, Bradford, Reed, " which includes the family trees of many U. S. Presidents and European monarchs, and a host of famous statesmen, soldiers, artists, actors, writers, poets, musicians, scientists, inventors, and social reformers. His work has helped tens of thousands of people discover their family roots and find their intimate connections to the people and events that have shaped world history.

Laurence Overmire's Works:

The One Idea That Saves The World: A Call to Conscience and A Call to Action (2012)
Gone Hollywood (2011)
One Immigrant's Legacy: The Overmyer Family in America 1751-2009 (2009)
Report From X-Star 10 (2009)
Honor and Remembrance: A Poetic Journey through American History (2007)
This page is based on the copyrighted Wikipedia Laurence Overmire; it is used under the Creative Commons Attribution-ShareAlike 3.0 Unported License. You may redistribute it, verbatim or modified, providing that you comply with the terms of the CC-BY-SA.
In Times Of Trouble
I saw my sister Beatled
In 1964
Gum-cracking to the toe-tap of
Ed Sullivan's really big shoe
Teeny-bopping girl, she needed
To believe in something other
Than a bullet through a handsome
President's head.