Leo Yankevich
Leo Yankevich
(October 30,1961 / Farrell, Pennsylvania)
Biography of Leo Yankevich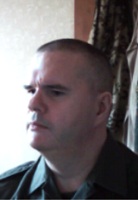 an American poet and the editor of The New Formalist.

Born into a Roman Catholic family of Irish-Polish descent, he grew up and attended high school in Farrell, Pennsylvania, a small steel town in western Pennsylvania. He then studied History and Polish Studies at Alliance College, Cambridge Springs, Pennsylvania, receiving a BA in 1984. Later that year he travelled to Poland on a fellowship from the Kosciuszko Foundation to attend Kraków's Jagiellonian University. After the fall of the Iron Curtain in 1989, he decided to settle in Poland. Since 2013 he has lived in Pittsburgh, PA.

Yankevich writes poems in both traditional metre and in syllabics, and only occasionally in free verse. He is a prolific translator, having rendered into English poems by Mikhail Lermontov, Georg Trakl, Rainer Maria Rilke, Stanislaw Grochowiak, Czeslaw Milosz, Alexander Blok, Leopold Staff, Nikolay Gumilev, Boleslaw Lesmian, and many others. He has a large Internet presence with work published in scores of online publications, ranging from The Pittsburgh Post-Gazette to Poets Against War.

Leo Yankevich's Works:

Chapbooks

The Language of Birds; Pygmy Forest Press,1994 ISBN 0-944550-39-8
Grief's Herbs (translations after the Polish of Stanislaw Grochowiak): The Mandrake Press,1995
The Gnosis of Gnomes; The Mandrake Press,1995
Epistle from The Dark; The Mandrake Press,1996 ISBN 83-904541-1-4
The Golem of Gleiwitz; The Mandrake Press,1998 ISBN 83-904541-6-5
" Metaphysics" by Leo Yankevich,2002

Books

The Unfinished Crusade; The Mandrake Press,2000 ISBN 83-904541-9-X
The Last Silesian; The Mandrake Press,2005 ISBN 0-9708219-2-1
Tikkun Olam; Counter-Currents Publishing,2012 ISBN 978-1-935965-38-1
Journey Late at Night: Poems & Translations; Counter-Currents Publishing,2013 ISBN 978-1935965824
This page is based on the copyrighted Wikipedia Leo Yankevich; it is used under the Creative Commons Attribution-ShareAlike 3.0 Unported License. You may redistribute it, verbatim or modified, providing that you comply with the terms of the CC-BY-SA.
How To Get To Heaven
Pauline sang like an angel in the choir,
her blue eyes looking heavenward, far past
the stained-glass windows. Yet I laid her fast.
My balls and manhood were her body's sire.

Her lips were soft, tumescent, from being pleasured,
her subtle thanks for thrusts both deep and strong.
Her delicate hands said she liked it long.
My smacks on her pale ass cheeks were well measured.