Little King of Sorrows
Little King of Sorrows
[L.K.Sorrows]
Biography of Little King of Sorrows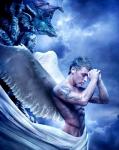 As I am now over 50 poems in, I guess you could say I'm becoming a 'regular'. With no end in sight. Here is to the next 50. I highly recommend these fellow poets who have inspired me.

1.Aswath Raman
2.Rabia Minhas
3.Unwritten Soul
4.Titi Dale
5.Umbrella Lady
6.Wind Song

Little King of Sorrows's Works:

Not yet.
New Poems
Black Widow Diddy
Your a black widow baby, you like to kill em slow.
You shoulda known better, Cuz I'm a walk away Joe.
Successful bait for hatred,
But don't confuse your tricks w love.
That blank space where ur heart should be,
Keeps your legs spread high above.
Rub a dub dub,
Two hoes in a tub.
One pulls out the lube, The other gives a rub.