Biography of Little King of Sorrows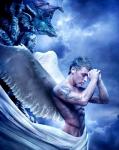 As I am now over 50 poems in, I guess you could say I'm becoming a 'regular'. With no end in sight. Here is to the next 50. I highly recommend these fellow poets who have inspired me.

1.Aswath Raman
2.Rabia Minhas
3.Unwritten Soul
4.Titi Dale
5.Umbrella Lady
6.Wind Song

Little King of Sorrows's Works:

Not yet.
New Poems
A victim of the moment
As the winter moon reflects upon the icy river valley,
a soul searches the darkness of his own mind,
where the water of life and resource once flowed abundant,
has frozen over with the changing of the seasons.
A victim of the moment.

The trees, naked and transparent, fall prey to the ever-changing winds,
even among the protection of its own kind, still portrays a lonely and lifeless chill,
far from the summer breeze that tickled it's leaves with joy and meaning,