Louise Imogen Guiney
Biography of Louise Imogen Guiney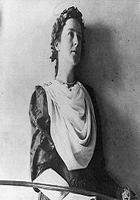 Born on January 7, 1861, in Roxbury (now part of Boston), Massachusetts,
Louise Guiney was educated at Elmhurst, a convent school in Providence, Rhode Island.
To help support her family she began contributing to various newspapers and magazines. Her poems, collected in Songs at the Start (1884) and The White Sail and Other Poems (1887), and her essays, collected in Goose Quill Papers (1885), soon attracted the attention of the Boston literary establishment, and the verse in A Roadside Harp (1893) and the essays in Monsieur Henri (1892), A Little English Gallery (1894), and Patrins (1897) brought her to the center of aesthetic life in Boston.

Oliver Wendell Holmes, Thomas Bailey Aldrich, Thomas W. Higginson, and Edmund Clarence Stedman were among her friends and patrons, and on visits to England in the 1890s she met Edmund Gosse, W.B. Yeats, and others. A walking tour of England with her friend Alice Brown in 1895 led to their collaboration on Robert Louis Stevenson--A Study (1895). Her own models in literature were chiefly William Hazlitt and Alfred, Lord Tennyson.

When, toward the end of the 1890s, her health and her muse both deserted her, Guiney turned to scholarship, concentrating mainly on the Cavalier poets (a group of mid-17th century English gentlemen poets). From 1901 she lived happily in England. Her later books included England and Yesterday (1898), Martyr's Idyll and Shorter Poems (1899), Hurrell Froude (1904), Robert Emmet--His Rebellion and His Romance (1904), The Blessed Edmund Campion (1908), and Happy Ending (1909, revised 1927), her collected verse.

She died at her home in Chipping Campden, Gloucestershire, England, on November 2, 1920. Her unfinished anthology of Catholic poets from Sir Thomas More to Alexander Pope, prepared in collaboration with Geoffrey Bliss, was published as Recusant Poets in 1939.
This page is based on the copyrighted Wikipedia Louise Imogen Guiney; it is used under the Creative Commons Attribution-ShareAlike 3.0 Unported License. You may redistribute it, verbatim or modified, providing that you comply with the terms of the CC-BY-SA.
Summum Bonum
Waiting on Him who knows us and our need,
Most need have we to dare not, nor desire,
But as He giveth, softly to suspire
Against His gift, with no inglorious greed,
For this is joy, tho' still our joys recede;
And, as in octaves of a noble lyre,
To move our minds with His, and clearer, higher,
Sound forth our fate; for this is strength indeed.