Biography of luisa sanchez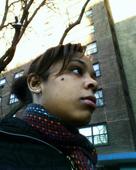 I'm just a cubarican with a passion for poetry.....poetry is how I express myself the world, others or life......I basically can't can't go out without a day that I don't write something.......and I hope that 1 day I can inspire someone and touch someones heart.......and I'm only 16.....and I can't wait

luisa sanchez's Works:

none.......yet.....
This page is based on the copyrighted Wikipedia luisa sanchez; it is used under the Creative Commons Attribution-ShareAlike 3.0 Unported License. You may redistribute it, verbatim or modified, providing that you comply with the terms of the CC-BY-SA.
Today....is
Today, today and today was like today, a remeberance of today won't feel like yesterday or it won't feel like tommorow but it feels like today and it will always feel like today no yesterday or tommorow will change today, oh today taking out days away like yesterday that's what today means it means no tommorow it means no yesterdays I will not dare