Avant
Biography of Avant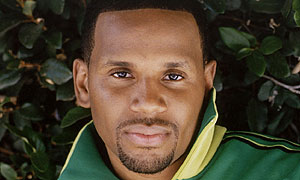 Hailed as the "new voice of ghetto soul" and aknowledged as the first act signed to NBA great Magic Johnson's Magic Johnson Music, Chicago native Avant's debut album, My Thoughts was issued by MCA Records on May 2, 2000. Around the same time, the 22-year old singer/songwriter was enjoying a Top Five Billboard R&B/Hip Hop hit single, "Separated." The video for the song was getting massive play on cable channels BET and The Box. Avant's style of modern soul owes heavily to fellow Chicago-based singer R.Kelly.

Originally, Avant's manager, Eric Payton, released "Separated" in January 1998 on his Payton Entertainment label. The single began getting airplay on #1 rated radio station WGCI in Chicago before eventually being included on the 1999 MCA compilation, Summer Heat. The singer/songwriter wrote "Separated" based on his feelings following a failed romantic relationship. Avant felt that The Lord had blessed him enough for being allowed to put his sadness down on paper. Emotional lyrics such as "listen baby, every time I see you I get a bad vibe/just thinking of someone else in between your thighs...I can't believe I stayed around that damn long...you did me wrong/I thought you were true" won the singer instant acclaim in his home city.

Recorded in Chicago, My Thoughts was produced by accomplished multinstrumentalist Steve Huff. Huff and Avant's overall high-quality musicianship gives My Thoughts a refreshing depth. The cover of Rene & Angela's 1983 #12 R&B ballad classic, "My First Love" stands out with a wonderfully swirling string arrangement by veteran Chicago arranger Tom Tom Washington, known previously as Tom Tom 84 and now as Tom Tom 2000. The slammin' song "Reaction" contains a rhythm guitar sample from Issac Hayes' 1974 #14 R&B/#71 Pop hit, "Wonderful." While some singers get too sexually graphic in their songs, Avant decides to leave it up to the listener's own libido and imagination on sensuous ballads such as "I Wanna Know," "Destiny" and "Ooh Aah" and on slammin' jams such as "Reaction" and "Serious." In 2002, he released Ecstacy on Johnson's subsidiary, a new album that featured production from Steve Huff again.