B. G.
Biography of B. G.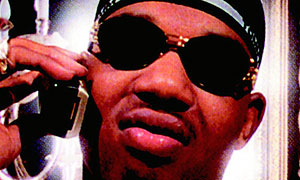 Long before the Cash Money camp became known as Cash Money Millionaires, the label got its start hustling albums by a young teen known as B.G., who eventually scored a national anthem with his track "Bling Bling." Originally known as the Baby Gangsta, B.G. grew up in the dangerous uptown section of New Orleans, among some of the most poverty-ridden areas of America. There he struggled to stay out of trouble and stay in school, yet thrived as a talented young rapper. Two ambitious entrepreneurs, Ronald "Slim" Williams and his brother Bryan "Baby" Williams, heard about the infamous Baby Gangsta and soon signed him to their infantile Cash Money label.

At the alarming age of only 11, B.G. recorded his first album, True Story (1993, re-released in 1999), and quickly made a name for himself in the South. The Cash Money brothers rushed the prodigy back into the studio to record yet another album, Chopper City (1997), which again captivated the region with its teen gangsta firing off rhymes with the poise of a seasoned veteran. Realizing that this was no mere novelty act, the Williams brothers kept shuttling B.G. back into the studio, resulting in two successive follow-ups: It's All on U, Vol. 1 and It's All on U, Vol. 2 (both 1997). Around this same time, with the money they had made off the B.G. albums, Cash Money signed a few other local rap artists and created the Hot Boys, a group featuring B.G., Juvenile, Lil' Wayne, and Young Turk. The first Hot Boys album, Get It How U Live! (1997), further established B.G. as an up-and-coming rapper.

Following the uncanny success of the Hot Boys' debut in the South and in the Midwest with little to no commercial airplay, the Williams brothers signed a deal with Universal Records in summer 1998 that provided distribution, marketing, and promotion support for future Cash Money releases. Now, with this deal signed, B.G.'s next album, Chopper City in the Ghetto (1999), surprised many by debuting at number nine on the Billboard charts. The album's lead single, "Cash Money Is an Army," supplied some push, but it was the anthemic "Bling Bling" that hit big. Another Hot Boys album, Guerrilla Warfare (1999), followed soon after, driven by the successful single "I Need a Hot Girl," and next, B.G.'s catalog was re-released in the wake of Cash Money's sudden rise to success. In late 2000, long after the Cash Money camp had become a household name, B.G. dropped his sixth solo album, Checkmate, led by the single "I Know," only weeks after the release of Baller Blockin', a soundtrack and straight-to-video film also featuring the ever-busy B.G. The rapper then surprisingly parted ways with Cash Money as rumors circulated. He resurfaced a few years later with Livin' Legend (2003), which Koch released, followed by 2004's Life After Cash Money.