Boyzone
Biography of Boyzone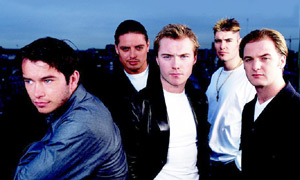 In the five years that they've been together, Boyzone has risen to the top echelon of Ireland's pop music. Dubbed "most promising band of the year" by British magazine, Smash Hits in 1995, the group more than fulfilled predictions. Their first twelve singles reached the top five and they became the first Irish act to have four number one hits in the United Kingdom. Their 1998 tour of Ireland shattered all sales records when 35,000 tickets were sold out in four hours.

Boyzone was conceived by theatrical manager Louis Walsh who advertised for boys who were interested in auditioning for a band he was forming. After more than three hundred vocalists/dancers tried out, the band was assembled with lead vocalist Ronan Keating (born: March 3, 1977), Mikey Graham (born: August 15, 1972), Stephen Gately (born: March 17, 1976), Shane Lynch (born: July 3, 1976) and Keith Duffy (born: October 1, 1974). The group's early singles were covers of 1970s pop tunes. Their first release, a cover of the Detroit Spinners' "Working My Way Back To You," reached number three on the Irish music charts. Their second single, a cover of the Osmonds' "Love Me For A Reason," reached number two. Shortly before they recorded their debut album, Said And Done, Boyzone hired Ray Hedges of Take That to write original songs for the group. The first single, an original tune, "Key To My Life," reached the top slot on the British music charts. The second single from the album, "So Good," was equally successful.

In 1998, Boyzone released a single of the Billy Ocean-penned tune, "When The Going Gets Tough," with proceeds going to benefit Comic Relief.