Dannii Minogue
Biography of Dannii Minogue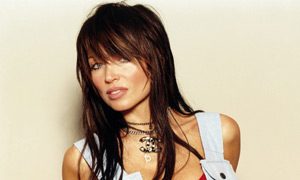 Australian-native Dannii Minogue has stepped into many professional roles in her life that placed her in the public eye, including singer, songwriter, actress, and even fashion designer. She started singing and dancing lessons very early, then performing in Australia on the television series Skyways when she was only seven years old. Her next venture landed her a place with Young Talent Time. She appeared on her first album with them in 1985, taking a solo spotlight on one song. By 1988 her first line of clothes, DANNII, was on the market, and selling fast. A short year later, Dannii signed a recording contract with the Mushroom Records label and around the same time, was working on the soap opera Home & Away. In 1990, her debut single, "Love & Kisses," was released and landed on the charts right out of the starting gate. A self-titled album followed. She soon captured her first gold record. It should be noted that all of these impressive accomplishments listed above were achieved even before Dannii turned the ripe old age of 21.

Danielle Jane Minogue was born in Melbourne, Australia, in 1971. She arrived with some God-given talents, but worked hard with lessons to improve them. After several television shows and singing parts, Dannii went solo in 1989. Two years later she finished work on her first album, Love & Kisses. The debut carries pop/rock and club/dance-style songs like "Party Jam," "Jump to the Beat," "Baby Love," and "I Don't Wanna Take This Pain." That same year, the album was re-released, but changed from a 12-track to a 16-track offering. It hit the market in Australia, Japan, and the U.K., taking different titles in some cases, like DANNII or Party Jam, but still managing to bring in new fans from each country. The excellent album's title track went gold for the young star, and a number of its other tunes became big hits.

By 1993 Dannii had completed her first film and her second album. Her older sister, Kylie Minogue, was riding her own pop star at the time.