Eels
Biography of Eels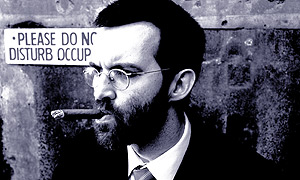 Although marketed as a band, the leader and focus of alt-rockers Eels is undeniably singer/songwriter/multi-instrumentalist E (real name Mark Oliver Everett). Born April 9, 1963, in Virginia, Everett became interested in rock music at an early age via his sister's record collection, and began playing drums at the age of six (as well as tinkering on his family's piano). After his father's passing just a few years later, Everett began leading a troubled teenage life, being arrested and expelled from school. But the turmoil led to an even stronger interest in music for Everett, as he taught himself how to play his sister's guitar, and shortly thereafter wrote his own original compositions. Due to the fact that several of his friends also were called Mark, it was also around this time that Everett began going by just his initials, and eventually, solely by the letter "E."

By his early 20s, E was demoing countless songs on a used four-track cassette recorder, eventually deciding to pursue his rock & roll dreams by relocating to Los Angeles. Due to his prolific songwriting, the quality of his songs naturally began to improve, which prompted a recording contract as a solo artist for Polydor Records. A pair of underappreciated releases soon followed, 1992's A Man Called E (which was supported with a tour opening for Tori Amos) and 1993's Broken Toy Shop, before E left the label and formed Eels along with bassist Tommy Walter and drummer Butch Norton. The trio inked a deal with the then-newly formed DreamWorks label, and issued their debut, 1996's Beautiful Freak, as the group's sound was often compared to Beck. The album spawned a sizeable MTV/alternative radio hit with "Novocaine for the Soul," as its promo clip received three MTV Video Music Award nominations the following year, and the group's popularity rose in England (resulting in a Brit Award, presented to the group by goof metallists Spinal Tap).

What should have been a time of great promise for E and company turned out to be one of tragedy, as both the singer's sister and mother passed away (in addition to Walter leaving the group). The dark mood resonated in Eels' sophomore effort, Electro-Shock Blues, which proved to be even stronger than their debut, yet failed to break the group through to the big time commercially; despite collaborations with the likes of Mike Simpson (the Dust Brothers), Mickey P., Grant Lee Phillips (Grant Lee Buffalo), Jon Brion (Aimee Mann), and T-Bone Burnett. With new bassist Adam Siegal in tow, the group toured behind the release, before returning back to the studio immediately afterward to work on their third album. Issued in 2000, Daisies of the Galaxy proved to not be as dark as its predecessor, but again, failed to expand the group's following (R.E.M. guitarist Peter Buck guested on the album, and even helped co-pen a track). Despite the album's commercial failure, E put together "the Eels Orchestra" to support the release on tour, playing throughout Europe, America, and Australia, while the six-piece band featured saxophone, trombone, trumpet, banjo, guitar, violin, upright bass, piano, melodica, clarinet, and timpani (to make it work on-stage, each bandmember had to play three to four different instruments each night).

After a live recording of the 2000 Orchestra tour, Oh What a Beautiful Morning, was issued via the group's official website, E began preparing for Eels' fourth studio release overall. Instead of penning the entire album by himself (as he'd done with the group's previous work), Souljacker was co-written and co-produced by E along with John Parish, as the album was issued throughout most of the world in September of 2001, but not in the U.S. until March of 2002 (in the U.S., the first edition of the CD contained a bonus four-track disc). The resulting tour saw E and Norton joined by multi-instrumentalist Parish, as well as new bassist/synthesizer player Koool G Murder. A live disc, Electro-Shock Blues Show, followed soon after to promote the tour. Spring 2003 began a flurry of Eels/E-related releases, beginning with MC Honky and his SpinART release I Am the Messiah. While the man behind Messiah's splattering mix of hip-hop beats, dance grooves, and kitschy samples may or may not have been E in DJ drag, the album was nevertheless an enjoyable slice of summertime fun. April of that year saw the release of E/Everett's score for the indie film Levity, and in June came Shootenanny!, the Eels fifth studio album.