Five for Fighting
Biography of Five for Fighting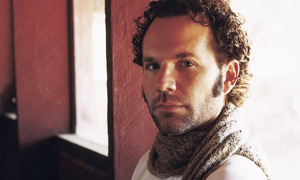 Five For Fighting has one main member, John Ondrasik, who considers himself mainly a singer and songwriter, though he is also competent as a guitarist and pianist. The name he picked for his band refers to a form of discipline used in the turbulent sport of hockey. Players who fight during the game are sent storming away to cool down for five minutes in a penalty box. In other words, they get five for fighting.

Ondrasik, born and raised in the San Fernando Valley of Los Angeles, started his musical training when he was only two years old. His mother, a piano teacher, gave him lessons. When he was around 13, he appropriated -- which is a nicer way of putting it than saying stole -- his sister's guitar. He taught himself to use this instrument and soon to write music. Somewhere along the way, he also took vocal lessons in opera. He soon discovered that opera wasn't his cup of tea, and Ondrasik leaned toward music by artists like Billy Joel, Journey, Elton John, Stevie Wonder, and Earth, Wind & Fire.

In 1997 Ondrasik, using the stage name Five For Fighting, saw the release of his debut album, Message for Albert, recorded under the Capitol Records label. Five For Fighting followed it three years later with America Town, released through Columbia Records. It continued Ondrasik's themes of love and life, but with a bit more political spin. The album might have quite simply been another strong outing from a talented singer/songwriter, were it not for the tragic events of September 11th, 2001 and the nationwide embrace of Ondrasik's delicate piano ballad "Superman [It's Not Easy]". Five For Fighting performed the song at the Concert for New York City that winter, and America Town went platinum. While it was a bittersweet way to find fame, "Superman"'s success gave Ondrasik the artistic license he'd always craved. When The Battle For Everything appeared in early 2004, it was Five For Fighting's most stylistically ambitious and lyrically bold recording to date.