Led Zeppelin
Biography of Led Zeppelin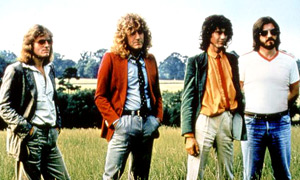 Did they invent heavy metal? Well, while it would be unfair to blame them for something as dreadful as, say, Motley Crue, they were certainly responsible for the trappings, images, and even the excesses that came to be known as that much-revered and much-hated musical form. The difference is they generally made it sound good...and often great, taking the white boy blues originally perpetuated by Cream and the Yardbirds to its wildest extremes.

Actually, Led Zeppelin rose from the ashes of the Yardbirds. Guitarist Jimmy Page had been leading a post-Jeff Beck unit called the New Yardbirds, which he disbanded in 1968 to create his dream "psychedelic blues" band. Recruiting his friend, bassist John Paul Jones (who'd played numerous sessions with artists, ranging from Donovan to Herman's Hermits and Petula Clark, along with Page throughout the '60s), Page found two talented novices in singer Robert Plant and drummer John Bonham. Who drummer Keith Moon reportedly gave the group its moniker when, after hearing their demo tapes, he predicted how the group would go over--but the Zeppelin seemed to take off immediately, eventually becoming one of the most popular bands in rock history. Their appeal never seemed to wane until after they disbanded, following Bonham's death from overindulgence in 1980.

Perhaps more than any other group before or since, Zeppelin was responsible for taking the blues-ish boast of "I'm A Man," originally a boast of black pride, and transforming it into a cry of sometimes sexist penile power. They were also notorious for stealing music from their forebears and putting their own names on it (lawsuits were eventually filed by many, ranging from Willie Dixon to the family of Ritchie Valens, who figured that "Boogie With Stu" was a direct rip-off of their relative's "Ooo, My Soul"). Nevertheless, they always made it sound--stolen or not--like no one but Led Zeppelin. As the band fell more into addictions and excess, they eventually also fell into musical formula, but unlike their progeny, they remained eclectic in their choice of musical styles for a very long time, pushing the envelope consistently early in their career. And when they were good...