Leonard Cohen
Biography of Leonard Cohen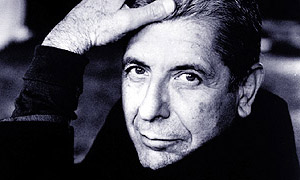 One of the most interesting and enduring, if not the most successful singer/songwriters of the late '60s, Leonard Cohen retained a substantial following for decades to come, along with the attention of critics who long since ceased worrying about new works by most of his contemporaries.

Cohen was born nearly a decade earlier than the Beatles or the Rolling Stones, and a year before Elvis Presley, but his personal, social, and intellectual background couldn't be more different from any rock stars of any generation; nor can he be easily compared even with any members of the generation of folk singers that came of age in the 1960s. He didn't start performing or recording until he was in his mid-30s, after he had already written several books. As an established novelist and poet, his literary accomplishments far exceed those of Bob Dylan, though as a performer, his rather monotone voice is less appealing than Dylan's singing.

Leonard Cohen was born into a middle-class Jewish family in the Montreal suburb of Westmount. His father, a clothing merchant, died when Cohen was nine years old. Cohen was raised in a progressive environment, and was encouraged to express himself at an early age. He took up the guitar at age 13, initially as a way to impress a girl, but within a year or two was singing his own songs at local cafes. He majored in English at McGill University, and despite average grades, won the McNaughton Prize in creative writing before graduating in 1955. His first book of poetry, Let Us Compare Mythologies, was published the following year, and became a critical success. Two more books of his poetry followed, along with an attempt to join the family business and a stint at Columbia University, but primarily Cohen wrote; his work was popular enough to pay him a modest royalty which, when coupled with government-sponsored literary grants and a family legacy, allowed him to live comfortably. He also lived a very free lifestyle, involving many women, experiments with LSD when it was still legal, and travels around the world. Cohen became almost as well-known in Canada for his iconoclastic behavior as his writing, and only seemed to benefit from these extra-literary activities, in terms of recognition, especially in America.

Two novels, The Favorite Game (1963) and Beautiful Losers (1966), solidified his reputation in mid-decade. He had written songs ever since his mid-teens, and even these began attracting attention. Judy Collins, one of the top folk talents to emerge during the mid-'60s, cut a version of Cohen's "Suzanne" that proved extremely popular, garnering considerable radio airplay and becoming one of her most popular numbers; and she persuaded Cohen to join her on the folk song circuit. He made his debut during the summer of 1967 at the Newport Folk Festival, followed by a pair of sold-out concerts in New York City and an appearance singing his songs and reciting his poems on the CBS network television show Camera Three. At around the same time, actor/singer Noel Harrison brought "Suzanne" onto the pop charts with a recording of his own.

Cohen was signed to Columbia Records, and in early 1968 his first album, The Songs of Leonard Cohen, was released. Despite its spare production and melancholy subject matter -- or, very possibly because of it -- the album was an immediate hit by the standards of the folk music world and the budding singer/songwriter community. College students by the thousands bought it; in its second year of release, the record sold over 100,000 copies. The Songs of Leonard Cohen was as close as Cohen ever got to mass audience success. His next album, Songs From a Room (1969), was characterized by a similar spirit of melancholy, but was less well-received commercially and critically. The album did have a pair of tracks, "Bird on a Wire" and "The Story of Isaac," that became standards rivalling "Suzanne." Cohen's third album, Songs of Love and Hate (1971), showed a slackening of interest in his work, as his following retreated to well-established cult status, despite the presence of the acclaimed songs "Joan of Arc" and "Famous Blue Raincoat." Leonard Cohen: Live Songs was released in 1973.

Despite the critical misgivings about his vocal abilities, Cohen always had enough of a following to justify another long-player every other year or so. Meanwhile, in 1973, his music became the basis for a theatrical production called Sisters of Mercy, conceived by Gene Lesser and loosely based on Cohen's life, or at least a fantasy version of his life. A three-year lag ensued between Songs of Love and Hate and Cohen's next album, and most critics and fans just assumed he'd hit a dry spell. His 1974 release New Skin for Old Ceremony seemed to justify his fans' continued faith in his work. The new songs were still depressing and bleak, but also surprising in the language and their revelations. Columbia Records released The Best of Leonard Cohen in 1975. In 1977, Cohen reappeared with Death of a Ladies' Man. Cohen's most controversial album, Death of a Ladies' Man was produced by the reclusive and enigmatic producer Phil Spector and suffered from the worst attributes of Cohen's and Spector's work; it was overly dense and self-consciously imposing in its sound, and it virtually bathed the listener in Cohen's depressive persona, still limited in presentation to a monotone delivery.

Cohen's next two albums, Recent Songs (1979) and Various Positions (1985, Passport Records), attracted relatively little attention despite their strong respective song lineups. I'm Your Man (1988, Columbia), however, benefitted from the release a year earlier of Jennifer Warnes' Famous Blue Raincoat, a collection of Cohen's best work presented by a singer with a very attractive voice; it sold very well and served to remind the public of the worth of Cohen's music. Cohen rose to the occasion with I'm Your Man, introducing humor (albeit rather black humor) to his mix of pessimism and poetic conceits, with the result that the album was his best-selling record in more than a decade. Four years later, Cohen released The Future, an album that dwelt on the many threats facing mankind in the coming years and decades. Not the stuff of pop charts or MTV heavy rotation, it attracted Cohen's usual coterie of fans, and enough press interest as well as sufficient sales, to justify the release in 1994 of his second concert album, Live.