Pet Shop Boys
Biography of Pet Shop Boys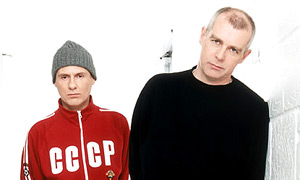 Postmodern ironists cloaked behind a veil of buoyantly melodic and lushly romantic synth pop confections, the Pet Shop Boys' cheeky, smart, and utterly danceable music established them among the most commercially and critically successful groups of their era. Always remaining one step ahead of their contemporaries, the British duo navigated the constantly shifting landscape of modern dance-pop with rare grace and intelligence, moving easily from disco to house to techno with their own distinctive image remaining completely intact; satiric and irreverent -- yet somehow strangely affecting -- the Pet Shop Boys transcended the seeming disposability of their craft, offering wry and thoughtful cultural commentary communicated by the Morse code of au courant synth washes and drum-machine rhythms.

Pet Shop Boys formed in London in August 1981 when vocalist Neil Tennant (a former editor at Marvel Comics who later gained some notoriety as a journalist for Smash Hits magazine) first met keyboardist Chris Lowe (a onetime architecture student) at an electronics shop; discovering a shared passion for dance music and synthesizers, they immediately decided to start a band. Dubbing themselves the Pet Shop Boys in honor of friends who worked in such an establishment -- while also obliquely nodding to the sort of names prevalent among the New York City hip-hop culture of the early 1980s -- the duo's career first took flight in 1983, when Tennant met producer Bobby "O" Orlando while on a writing assigment. Orlando produced their first single, 1984's "West End Girls"; the song was a minor hit in the U.S. but went nowhere in Britain, and its follow-up, "One More Chance," was also unsuccessful.

Upon signing to EMI, the Pet Shop Boys issued 1985's biting "Opportunities (Let's Make Lots of Money)"; when it too failed to attract attention, the duo's future appeared grim, but they then released an evocative new Stephen Hague production of "West End Girls," which became an international chart-topper. Its massive success propelled the Pet Shop Boys' 1986 debut LP Please into the Top Ten, and when "Opportunities" was subsequently reissued, it too became a hit. Disco, a collection of dance remixes, was quickly rushed into stores, and in 1987 the duo resurfaced with the superb Actually, which launched three more Top Ten smashes -- "It's a Sin," a lovely cover of the perennial "Always on My Mind," and "What Have I Done to Deserve This?," a duet between Tennant and the great Dusty Springfield. A documentary film titled It Couldn't Happen Here was released the following year.

Also in 1988, Pet Shop Boys issued their third studio LP, the eclectic Introspective; the single "Domino Dancing" was their final Top 40 hit in the U.S. The following year, the duo collaborated with a variety of performers, most notably Liza Minnelli, for whom they produced the 1989 LP Results; they also produced material for Springfield, and Tennant joined New Order frontman Bernard Sumner and ex-Smiths guitarist Johnny Marr in the group Electronic, scoring a hit with the single "Getting Away With It." The Pet Shop Boys reconvened in 1990 for the muted, downcast Behavior, produced by Harold Faltermeyer. 1991 saw the release of their hit medley of U2's "Where the Streets Have No Name" and Frankie Valli's "Can't Take My Eyes off You," and was followed in 1993 by Very, lauded among the duo's finest efforts to date. After a three-year absence, the Pet Shop Boys resurfaced with Bilingual, a fluid expansion into Latin rhythms. Nightlife followed in 1999 and sparked the dance club hit "New York City Boy." On the success of that, they also toured the U.S. for the first time in eight years. While on tour, Tennant and Lowe were also collaborating with playwright Jonathan Harvey. Since 1997, the three had been crafting a musical surrounding gay life and societal criticisms. Closer to Heaven made its West End debut in 2001 and had a successful run for most of the year. The Pet Shop Boys' score of the original cast recording, Closer to Heaven, was also a hit in the U.K. They still had time to make a record for themselves, too. In April 2002, Tennant and Lowe issued their follow-up to 1999's Nightlife, the vibrant album entitled Release. Sanctuary celebrated the Pet Shop Boys' lasting power, releasing the delectable Disco 3 compilation in February 2003. Disco 3, a sure collector's item for PSB loyalists, included various remixes and new cuts. Felix da Housecat's star-studded tweaking on "London" is brilliant and videos make this release a sure bonus.