Makarand Paranjape
Biography of Makarand Paranjape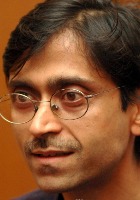 Makarand R. Paranjape is an Indian poet and professor at the Jawaharlal Nehru University (JNU) in New Delhi, India.

Early Life and Education

Makarand Paranjape was born in 1960 in Ahmedabad, Gujarat. He was educated at the Bishop Cotton Boys' School, Bangalore, followed by B.A. (Hons.) in English from St. Stephen's College, University of Delhi in 1980. Thereafter he joined the University of Illinois at Urbana–Champaign, from where he first did M.A. in English in 1983, and subsequently his Ph.D in English in 1985 on the topic "Mysticism in Indian English Poetry".

Career

Makarand Paranjape has been teaching undergraduate/postgraduate students for almost 30 years. His teaching career has spanned the better part of the globe. A large part of this has been spent in USA and India, where he has lived and worked. He started his career in 1980, as Teaching Assistant at the University of Illinois at Urbana-Champaign. He returned to India in 1986, joined the University of Hyderabad, first as Lecturer and then Reader. In 1994 he joined the Dept. of Humanities & Social Sciences, IIT Delhi as an Associate Professor. Since 1999, he has been a Professor of English at Jawaharlal Nehru University, New Delhi, Centre for English Studies. He has published over 120 Academic Papers in various refereed journals and edited books within the country and internationally. In addition, he is the author of several poems and short stories, over 200 essays, book reviews, and occasional pieces in academic and popular periodicals in India and abroad.

He was a columnist in Sunday Observer, Business Standard, The Pioneer, and Life Positive. He is chairperson of the Centre for English Studies, JNU, and is a member of the Board of Studies, the Academic Council of JNU, and the Vision Committee of JNU; the Coordinator for UGC Special Assistance Programme, in the Centre for English Studies, JNU from 2003 to 2008; the Principal Investigator of the Project on Indian Perspectives on Science and Spirituality, from 2006 to 2009. He is the General Editor of a series of reprints of rare and out of print Indian English titles published by the Sahitya Akademi, New Delhi. He is the founding Trustee of Samvad India Foundation, a Delhi-based non-profit, public charitable trust, and also the founding editor of Evam: Forum on Indian Representations, an international bi-annual, multi-disciplinary journal on India. He was the chairperson for the Europe and South Asia region of Pan-Commonwealth panel of judges for the 2008 and 2009 Commonwealth Writers' Prize; he also served as the Indian host judge for the 2010 Prize awarded in New Delhi.

Honours

Homi Bhabha Fellow for Literature, 1991–1993
Visiting Professor, Indian Institute of Advanced Study, Shimla, 1996.
Shastri Indo-Canadian Research Fellow, University of Calgary, Canada, Summer 2000. Visiting Professor, Ball State University, Indiana, USA, Fall 2001.
IFUSS Fellow, University of Iowa, Iowa City, USA, Summer 2002.
Mellon Fellow, Harry Ransom Humanities Research Center, University of Texas at Austin, Summer 2003 and Summer 2004.
Coordinator, UGC Special Assistance Programme, 2003 onwards
Joint-Coordinator, China-India inter-cultural dialogue, 2004–2005
GPSS research award, 2005–2006
Australia India Council Fellow, 2005–2006
GPSS Major Award 2006-2009
Chair of the Jury for South Asia and Europe of the Commonwealth Writers Prize, 2007-2009.
Visiting Professor, Universitat Autonoma de Barcelona, April–October 2009
Shivdasani Visiting Fellow, Oxford Centre for Hindu Studies, University of Oxford, Michaelmas Term, 2009 (October–December)
ICCR Chair in Indian Studies, National University of Singapore, August 2010 onwards

Makarand Paranjape's Works:

Criticism

Mysticism in Indian English Poetry. Delhi: B.R.Publishers, 1988.
Decolonization and Development: Hind Svaraj Revisioned. New Delhi: Sage Publications, 1993.
Nativism: Essays in Literary Criticism. Ed. Sahitya Akademi, 1997
Towards a Poetics of the Indian English Novel. Shimla: Indian Institute of Advanced Study, 2000.
In Diaspora: Theories, Histories, Texts. Ed. New Delhi: Indialog, 2001
Saundarya: The Perception and Practice of Beauty in India, Ed. with Harsha V. Sabda, 2004
Text and Interpretation in Indian Thought. Ed., with Santosh Sareen. New Delhi: Mantra Books, 2004.
English Studies: Indian Perspectives. Ed., with Amit Sarwal and Aneeta Rajendran. Mantra Books, 2006.
Another Canon: Indian Texts and Traditions in English. London: Anthem Books, 2009: New Delhi: Anthem Books, 2010 (paperback).
Altered Destinations: Self, Society, and Nation in India. London: Anthem Books, 2009. New Delhi: Anthem Books, 2010 (paperback).
Indian English and Vernacular India: Texts and Contexts. New Delhi: Pearson Longman, 2010. Ed., with GJV Prasad.
Bollywood in Australia: Transnationalism and Culture. Perth: University of Western Australia Press, 2010. Ed., with Andrew Hassam.

Poetry

The Serene Flame. Delhi: Rupa & Co, India 1991.
Playing the Dark God. Delhi: Rupa & Co, India 1992.
Used Book. New Delhi: Indialog Publications, New Delhi 2001.
Partial Disclosure. New Delhi: Mantra Books, India 2005.
Confluence. New Delhi: Samvad India, India 2007.

Fiction

This Time I Promise It'll Be Different: Short Stories. New Delhi: UBS Publishers, 1994.
The Narrator: A Novel. New Delhi: Rupa, 1995.

Edited Books

Indian Poetry in English.Madras: Macmillan, 1993.
Sarojini Naidu: Selected Poetry and Prose. Delhi: HarperCollins India, 1993; 2nd. rev. ed., New Delhi: Rupa, 2010.
An Anthology of New Indian English Poetry. Delhi: Rupa, 1994.
Sarojini Naidu: Selected Letters. Delhi: Kali for Women, 1996.
The Spirit's Manifest Home: The Story of Sri Aurobindo Ashram-Delhi Branch. New Delhi:Sri Aurobindo Ashram, 1997.
The Best of Raja Rao. New Delhi: Katha, 1998.
The Penguin Sri Aurobindo Reader. New Delhi: Penguin, 1999.
The Little Book of Sri Aurobindo. New Delhi: Penguin, 2001. Dehejia. New Delhi: Samvad India, 2003.
The Penguin Swami Vivekananda Reader. New Delhi, 2005.
The Cyclonic Swami: Vivekananda in the West. With Sukalyan Sengupta. New Delhi: Samvad India, 2005.
Dharma and Development: The Future of Survival. New Delhi: Samvad India, 2005.
Science and Spirituality in Modern India. New Delhi: Samvad India, 2006.
Earth Lessons: Three Essays on Saving the Planet. New Delhi: Vikram Sarabhai Foundation, 2008. (With Devaki Singh).
Science, Spirituality and the Modernization of India. New Delhi: Anthem, 2008.
Sacred Australia: Post-secular considerations. Melbourne: Clouds of Magellan, 2009; Indian Edition, with new Foreword and Preface, New Delhi: Aditya Prakashan, 2010.

Translation

Boats from the Marathi original 'Hodya' by Hemant Govind Joglekar. New Delhi: B.R. Publishers, 1994
This page is based on the copyrighted Wikipedia Makarand Paranjape; it is used under the Creative Commons Attribution-ShareAlike 3.0 Unported License. You may redistribute it, verbatim or modified, providing that you comply with the terms of the CC-BY-SA.
The Dance
The rain-dance required prior permission from Mother.
IN the tiled courtyard in the middle of the house,
Gleefully shedding our clothes—those encumbrances—
We two brothers would assemble.
Then frisking and romping in the showers
We would yell for our neighbours upstairs
(Sisters of five and seven with rhyming names)
To join us, splashing about a great deal
To make our invitation attractive.