Biography of Marc O'Maolain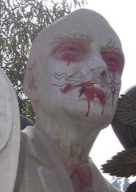 A new poet, albeit one who has written many songs

Marc O'Maolain's Works:

working on that...
This page is based on the copyrighted Wikipedia Marc O'Maolain; it is used under the Creative Commons Attribution-ShareAlike 3.0 Unported License. You may redistribute it, verbatim or modified, providing that you comply with the terms of the CC-BY-SA.
Hear It Again
Another sad song from the lugubrious phase of my life...gotta write these down while I remember them, since I rarely play them anymore

Key of D

Tell me please, yeah tell me true
Tell me now, come on tell me, do
I just gotta hear it again from you

They tell me that you don't love me