Mashiur Rahman
Mashiur Rahman
(Naogaon Bangladesh)
Biography of Mashiur Rahman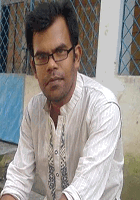 Hello Dear,
I'm Mashiur Rahman from Dhaka, Bangladesh
My home district Naogaon, Bangladesh
I'm Freelance Journalist, Blog Writer and Poet
My love, My Dream and My hobby is poetry and I believe in heart crucial world can be changed and established peace by poetry.
I can leave off all without poetry
Most of the time I think think and think…………………to do something for humanity by my writing.

I also love politics
I also holding dream to be a World leader but not leave off poetry.


I'm mostly influenced by Robindrunat Tagore, Kazi Nazrul Islam, Lalon Fokir and my Guru's.

Mashiur Rahman's Works:

''Shotorupa-2011'', ''Noimotthik-2012'' poems book in Bangla from SRIZONY publisher.
Touch
Divine touch
feeling expressive-less
just feel

love is madness
love is wreck
love is creation
for changeable of soul

Brightness in darkness
eternal love give to evidence-less happiness
Just feel......