Masiela Lusha

(23 October 1985-? / Tirana, Albania)
Biography of Masiela Lusha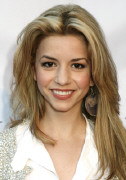 European born actress/writer Masiela Lusha portrayed 'Carmen Lopez' for five seasons as George Lopez's rebellious and passionate daughter on the syndicated ABC series, "George Lopez". Raised in Tirana, Albania; Budapest, Hungary; and Vienna, Austria, Masiela settled with her mother in Michigan at the age of seven. English is her fourth language.

Masiela has been named "The Youngest Author in the World" to publish a book in two languages. She designed the cover herself at the age of twelve, and was also named as one of "The Best Top Ten Talented Poets for North America, " for her first book "Inner Thoughts." She views writing as an expression of herself where she can "create secret worlds without boundaries, " and currently her second book of poetry "Drinking the Moon" will be released in print this summer by Dorrance Publishing. Through her poetry she paints portraits of character, human emotions, experience, insecurity, and pride; and reflects on the betrayal of friendships, and on the society surrounding her.

Her writing also includes screenplays, short stories, and her first novel, "The Bessa" which is in its fourth chapter. She is currently drafting an essay on why poetry could never die.

Masiela graduated from high school at 15, and was warmly accepted as a junior to UCLA at the age of eighteen, majoring in English. In her spare time she also enjoys affiliating with Reading Programs around the country where she promotes the utter importance of understanding and appreciating the written language.

Before becoming an actor, she was named by Teen Magazine as one of five to "Most Likely to Succeed" in 2000. Overcoming language and culture barriers, Masiela feels she has had many examples that have set the precedence in her life of knowing that one can accomplish anything and everything if one believes and has the courage to make things happen.

After arriving in Michigan, Masiela first gained attention by modeling. She was discovered among 600 aspiring actors by a Los Angeles based talent agent, and shortly there after was one of three invited to Hollywood at the age of thirteen. She loves honing her craft in front of the camera and exploring different characters, and continues to actively pave her path to success as an actress and author.

For more information on Masiela's experiences as an actress, please visit the International Movie Database at: www.IMDB.com

Masiela Lusha's Works:

Inner Thoughts (1998)
Drinking the Moon (2006)
This page is based on the copyrighted Wikipedia Masiela Lusha; it is used under the Creative Commons Attribution-ShareAlike 3.0 Unported License. You may redistribute it, verbatim or modified, providing that you comply with the terms of the CC-BY-SA.
Fire
Near. So near that you can kiss me.
I can see the gods dancing
Inside your belly,
And they break away star by star
From the tips of your curling
Fingers pointing up to their bed of waiting
Companions.

You release them, and you send them away.