Matthew Densley
Matthew Densley
(23/4/85 / Bristol UK)
Biography of Matthew Densley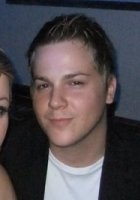 I was born on the 23rd of April 1985 in Bristol. My upbringing and childhood was extremely average. I wasn't the smartest kid or the dumbest, I wasn't the most popular nor the least. I didn't stand out in any way, for any reason. Be it academic subjects, sports, creativity, interests, home life, etc, everything was average.

I have never truly known what I want to do with my life. This idea of not being able to figure out what I wanted and needed to make me happy has infected most of my life and has left me deeply unsatisfied and difficult to please. It is a problem I have written about in numerous poems including, 'At Rest in the Snow', 'Fear' and 'Walking Backwards' which all in their own way describe the frustration and fear of not knowing where I'm heading in life. 'Fear' for example, was written as a way of expressing my concerns about life and not knowing what I should do with it. Being 25 (at the time of writing) I was too old to just coast along, I needed stability and not knowing what I wanted was frightening and that fear entered into all aspects of my life.

I have always written something, stories, lyrics, etc. However, I never felt any of it was good enough to keep. I never really took an interest in poetry when I was younger. My interest in poetry didn't come about until I was an adult and wrote my second poem 'At Rest in the Snow'. The effect that writing that poem had on me, emotionally and creatively was what caused me to take an interest in poetry.

From the end of 2005 onwards I have suffered with a condition known as Dysthymia, a form of chronic clinical depression, something I have come to refer to as the 'Black Dog'. Because of this I had been known to suffer quite severely with loneliness. A theme which has been reflected often in my work with poems such as 'Are You All Alone Tonight', 'Without Love', 'To Paint a Picture of the Lonely' and 'Once Was Twain' among others. But it is not just these poems, which were spawned from loneliness, ironically a lot of my love poetry was written because of loneliness. Poems such as 'Just For You', 'Under the Moonlit Sky', 'Zeitgeist' and 'This Heart That Fleets' were all written about a love I wished I had. I find my love poetry to be interesting as it has formed out of both love and loneliness, out of happiness and depression. 'Once Was Twain' was an interesting poem to write. I wrote it about a month or so after breaking up with my (now ex) girlfriend. On the surface it sounds like a poem that expresses how I miss her and even I thought that for a long time. But when reading it back several months later, I noticed that the language I used and the words that I chose did not refer to my ex anywhere in the poem, not by name nor even a basic reference (her, she, etc) . I soon realised that the poem wasn't expressing how I missed her, It expressed how I missed the relationship I had with her and how I hated the idea of being lonely once more. Poetry for me is often a useful tool to help me understand myself.

The first poem I wrote was 'Shiny Metal Prison' which was written in July 2008. At the time I was smoking cannabis heavily and spending a lot of time by myself, cut off from the world. I was deep into a depressive episode and found myself not caring about anything or anyone. I spent hours on end sat in my car smoking cannabis and listening to music. The car I had at the time was a silver Nissan Micra, this is what I came refer to as a 'shiny metal prison'. I wrote the poem on a notepad in about 10 to 20 minutes, closed the book and forgot about it.6 months later after I had quit smoking cannabis, was no longer in a depressive cycle and had started writing poetry regularly, I rediscovered the poem when I found my notebook under my bed. I reread it and was astounded by what was written, it was like looking through a window into a much darker place, the emotions I has expressed in the poem frightened me and showed me just how bad things were at that time. I started writing poetry regularly shortly after I quit smoking cannabis. When I quit smoking cannabis, I had a sudden surge of physical and mental energy that I was not used to. One day on my lunch break in work I picked up a pen and paper and 25 minutes later the poem 'At Rest in the Snow' was born. I found out then, that by writing poetry, I was able to untangle all of the muddled thoughts and feelings that were going through my head, while at the same time giving me something fun and challenging to do.

Most of my poetry is written very emotionally. Whether it is depression or love I am writing about, my poetry often reflects what is happening on the inside.

If you wish to contact me please do so, I am reachable both on here and on facebook, via the link provided -
http: //www.facebook.com/home.php#/profile.php? id=1542620669&ref=profile



All poems are subject to copyright.
Permission granted to reproduce for personal and educational use only. Commercial copying, hiring, lending is prohibited. Any unauthorised broadcasting, public performance, copying or recording will constitute an infringement of copyright. Selling without prior written consent prohibited. Obtain permission before redistributing. In all cases copyright notice/disclaimer must remain intact.
At Rest In The Snow
I punish myself, for what, I don't know
My body lies quivering at rest in the snow
But I don't feel the cold, It's strange but it's true
There's a deeper pain present that is making me blue
A lonesome life in a crowded place
Wipes all expression off of my face
The voice in my head is screaming so loud
But to share it with others? I think I'm too proud
Depressive thoughts are clouding my brain