Mcanthony C. Nwatu
Mcanthony C. Nwatu
(25th october 1992 / Enugu)
Biography of Mcanthony C. Nwatu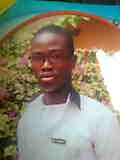 Am a dramatist.I love to compose poems but i don't have much experience.
Needed Pain(Sonnet)
Unbreakable glass
your paths are filled
with obstacles.
Taste and hunger of humans
your paths are filled
with incendiaries
Eager to scald any
who comes across.
You inflict pains to any
who knocks on your door.
You are man's obligation
why cause alibi for man.
Be at least soft hard
o! Master success.