Mcanthony C. Nwatu
Mcanthony C. Nwatu
(25th october 1992 / Enugu)
Biography of Mcanthony C. Nwatu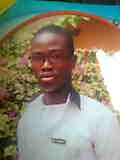 Am a dramatist.I love to compose poems but i don't have much experience.
New
fruit ripe and plucked
as new.
Child born and nurtured
as new.
New things, are they
not beautiful? Then
why say that beautiful
things are not yet
born.
Tell me that most beautiful things
are not born yet because
i have seen beautiful and more beautiful things.
Oh! I see, you lack spirit of
contention.