Michael Bassey Johnson
Biography of Michael Bassey Johnson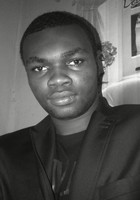 Michael Bassey Johnson is a Poet, Playwright, Novelist, Aphorist, Satirist, caricaturist and a Newspaper columnist.
At a very tender age, Michael had a penchant for writing short stories and plays which were sometimes acted out in church, school, etc. Though some of his plays were rejected due to excess of vulgarity and irregular choice of words. Often regarded as a metaphysical poet, Michael's perception of being a writer is in being versatile devoid of conforming to normal and monotonous styles of the uninitiated writers. Michael Studied English and Literature at the University of Uyo, Nigeria.

Michael Bassey Johnson's Works:

Scars Of Beauty.
Starting Point
It started like a queep, and you turn a geek in the eyes of freaks. Your scribbling was infantile,
and your mind was blank.
Scornful people are jealous souls,
for your works tethers and blinds their imaginations, for nothing so interesting they can grasp.
Never divuge your pen-manship to a fool, lest your works be rated a dummy. Pretend to be shy, and hide everything,
for spoilers and sadists come in glowing cloaks; to kill, steal, and to destroy.