MONCIANA EDMONDSON
MONCIANA EDMONDSON
(Jamaica, West Indies)
Biography of MONCIANA EDMONDSON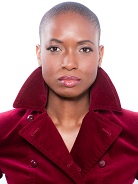 Monciana was born in the West Indies and immigrated to New York City when she was 17 years old. She is an alumnus of Herbert H. Lehman College in the Bronx, where she played Div III basketball and earned a BA in History.

She is curious about life and is always seeking the lessons in everyday occurrences. She is currently a model and actress.
Love On Deck
Some days I am a loaded gun
It takes naught but a light touch to bring me undone
Some days the darkness within,
My friendly enemy
She smiles and she winks:
Enticing me with fiery eyes,
Contaminating my truth with her brazen lies.
Don't you think this situation stinks?
What you wannna do?