MONCIANA EDMONDSON
MONCIANA EDMONDSON
(Jamaica, West Indies)
Biography of MONCIANA EDMONDSON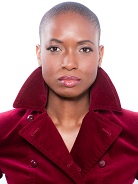 Monciana was born in the West Indies and immigrated to New York City when she was 17 years old. She is an alumnus of Herbert H. Lehman College in the Bronx, where she played Div III basketball and earned a BA in History.

She is curious about life and is always seeking the lessons in everyday occurrences. She is currently a model and actress.
New Poems
Justice
To this evil man
With his diabolical plan
There will be justice for me
You will deny me liberty.

No more funny lies
And shady allabies
You are gonna pay
You know karma don't play?