Nena Shawl
Nena Shawl
(6/4/1998 / Akron, Ohio)
Biography of Nena Shawl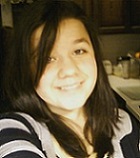 Hi! I am fifteen years old, and I live in Akron, Ohio. My friend told me to post my poems on this site, so I did. Some of my poems won't make sense unless you read the background story. I am your average hopeless romantic! My favorite movies are, and will always be, Disney. I write poetry and stories occasionally. I also love to draw. I play sports like volleyball, soccer, and dance. Yes, dance is a sport. I have a twitter and tumblr that I never use, a facebook that I basically use just to like pictures, and a youtube account just to like videos. That's basically me...
The Rose
Look at the rose
With little green toes
And a head of fire
That burns with desire
See how it swings and sways
When the wind with it plays

Watch the rose
As it waves its hellos
Then says good-bye
By the night time
Watch it shake its fragrance about
It is beautiful without a doubt.