Nicholas Nikolov
Nicholas Nikolov
[N. Nikolov] (April.6,1988 / Toronto)
Biography of Nicholas Nikolov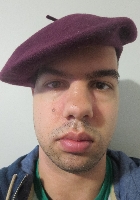 Born and bred in Toronto, Canada. I have been living here my whole life pretty much, except for one year when my family and I lived in Florida, USA. I was just a baby while there, and then we came back to Toronto after I turned a year old. I have Bulgarian roots, and a little bit of Greek from my mother's side of the family as well. I am sort of fluent in Bulgarian and my Greek language skills are pretty much non-existent, unfortunately. However, my skills in Macedonian match my fluency in Bulgarian; my Serbian skills is at an intermediate level I guess because although my speaking is not the greatest, I can however understand, read and write Serbian quite well. I did graduate from high school in 2006 and completed about a year and a half or two years of college. I was majoring in journalism, but figured it was not what I wanted to do with my life and just stopped going. Additionally, my grandfather, my mother's stepfather, passed away in November of 2008 from diabetes, and I was still going to school, I think. I was unable to focus on my studies as a resulting of his passing. Since 2008, I have been working various jobs. I have an idea what I want to do in my life, and I am really working hard to be able to achieve this occupational goal.


My hobbies include: reading history, discovering cultures, Bulgarian folklore dancing, listening to all genres of music from all over the world, learning simple vocabulary and basic sentences from any language, playing and watching sports: hockey, soccer (known around the world as football) , NFL, CFL, NBA, tennis, boxing, rugby and the Olympics. I also love to collect literature & poetry from around the world and from Canada, soccer jerseys, online news articles, hockey cards, postcards and banknotes from foreign countries.
New Poems
Valentine's Day Vaccine
Love and lust are the hearts fervent emotions,
without end in sight; both our minds and souls
twirling in an endless
dance, which undying passion swirls.
Eating deliciously, chocolaty sugar sweets,
accompanied with scrumptious wines;
we delight ourselves with the treats.
You, yourself, are more divine than these sweats.
I present you with the finest diamonds.