Biography of Palas kumar Ray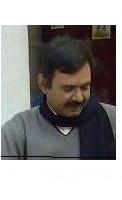 May be what I scribble here is poetry.May be they are not.But whatever they are, they are my encapsulated feelings about life and purely as I sense them.

If you call them poetry then I become a poet.
Else I'll continue to live as 'not yet a poet'

English is not my first language.Hence if you
stumble reading my poems is not your but my fault which I deeply regret.
If you like them is not mine but your greatness.
Thanks a lot for becoming here and reading my words.Please don't forget to put your comments because they alone can give my poems their
actual meaning.
This page is based on the copyrighted Wikipedia Palas kumar Ray; it is used under the Creative Commons Attribution-ShareAlike 3.0 Unported License. You may redistribute it, verbatim or modified, providing that you comply with the terms of the CC-BY-SA.
Love n hatred
When you say you Love
Father n Mother
Brother n Sister
Son n Daughter
Him and Her
I see you lie.
Whom you actually Love
is always ' I '