Palas Kumar Ray
Palas Kumar Ray
[palaskumarray] (20-05-1963 / India)
Biography of Palas Kumar Ray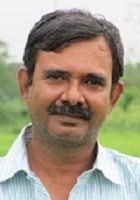 I am updating my Biography today on 11-08-2015 while revisiting poemhunter, my birth place as a poet. Poemhunter has been like mother to me who gave me a reason to write poems, who gave me a wonderful readers community who blessed me with their valuable comments on my works and immensely helped me to grow as a poet.So I am ever thankful to each of them and to this poetry website all over.
Relative Happiness
Now happy they are
They do not have a car.
Or they'd have the sorrow
the car was so narrow.
The car was so cheap
the color was so deep.
Model was so old
inside was not cold.