pamela nikkole white
pamela nikkole white
(3/25/94 / Rockingham)
Biography of pamela nikkole white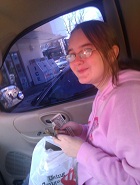 I am a 17 year old poet i got in to poetry because of my english teacher. Poems are a way of expressing myself. please read and comment my poems. I wish to hear what you have to say.
My One True Friend
I have one true friend,
That means a lot to me,
I wish she wasn't so blue,
I had no clue,
But when she told me what was wrong,
I felt sorry for her,
Then when I helped I became the one true friend.