pamela nikkole white
pamela nikkole white
(3/25/94 / Rockingham)
Biography of pamela nikkole white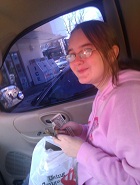 I am a 17 year old poet i got in to poetry because of my english teacher. Poems are a way of expressing myself. please read and comment my poems. I wish to hear what you have to say.
Freedom
Freedom is the light of our lives,
It tells us we are safe,
Freedom lets us do what we want,
We are free,

It is good to be free,
We can do what we want to do,
I am free child and it is good,
I love to be free,

We like to be free were ever we go,
we cando what ever we want,
It is good to be free.