Biography of pamela nikkole white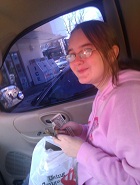 I am a 17 year old poet i got in to poetry because of my english teacher. Poems are a way of expressing myself. please read and comment my poems. I wish to hear what you have to say.
This page is based on the copyrighted Wikipedia pamela nikkole white; it is used under the Creative Commons Attribution-ShareAlike 3.0 Unported License. You may redistribute it, verbatim or modified, providing that you comply with the terms of the CC-BY-SA.
Happiness and love
What is Happiness and love?
Nobody really knows,
some people may say they do but the are wrong,
I know the truth and you need to know it too,
Happiness is when you find your one true love,
Love is when you have married him/her,
Once with him/her you see the connection and you are happy,
well you know that is the happiness.